How to choose an essay topic and stand out: top writing secrets
For some students choosing an essay topic is a blessing, while for others it's a curse, and they will never cope with such a challenge without getting professional writing help online. A considerable number of people are continuously searching for the assistance of a reliable, trusted and fast essay writer who will ease their sufferings and draw closer to the desired results. Learners often spend hours, if not days, agonizing over the endless choices only to make the wrong decision. As a result, they get bad grades and hope never to have to choose the topic again. If you've suffered a similar fate, our today's advice will be right up your alley. We'll teach you to select a winning essay topic every time.
Disclaimer: whichever advice you decide to follow, remember to keep the topic inside the scope of the class you are taking. When you write a paper on global warming for a Science or Economy class, it can get you an A, while the same subject for a French Literature class will bring you nothing but tears. Keep this in mind and let's move on!
What do you want to learn?
Every essay is an assignment designed to broaden your knowledge and skill set. So the more exciting and motivating the subject is for you, the better your writing will be. If you can't think of anything interesting, ask yourself these questions:
Did any of your teacher's lectures spark an interest in you?
Is there a topic you would like to explore in-depth?
Are there any complex notions you want to understand better?
Which of the class' texts do you find most exciting?
Is there an expert in the field whose life and work you want to study?
Remember the classes you enjoyed most; you might come up with an unexpected topic that caught your interest. Skim through the list of recommended reading; these additional texts could inspire you.
What do you already know?
If you only take the class to get necessary credit without being invested in learning it in-depth, you can always write about something you know well. It will make the prewriting stage much quicker and easier for you. You will need to find extra sources for inspiration and to support your arguments, but the writing will go much smoother. If you choose to go down this road, beware of being biased. Use your pre-existing knowledge to ease your workload, but be open to learning new and unexpected facts that can alter your point of view on the problem.
What do you like?
Some students tend to overthink and waste valuable time agonizing over the choice of the essay topic, when in fact it's looking them right in the face. Say, you have to write an essay for your History class, but instead, you spend your evenings playing civilization-building strategies online. So why not use your playing experience and learn more about the society you are building? Or if you are a fan of some music band and have to write a Sociology essay, you could discuss the impact of a particular music genre on the society. Integrating your interests into an academic assignment will make the task much more exciting, and it can be done for almost any subject.
How can you narrow the topic?
Most topics that students choose for their essays are too broad to cover within the word count limit. As a result, the thesis and arguments sound weak, and learners get failing grades. So whichever topic you have come up with, you should start by narrowing it down. Use an old journalism trick to do it. It's called 5W+H. Ask yourself six questions, and use the answers to formulate the essay topic:
What?
Who?
When?
Where?
Why?
How?
You don't have to answer all questions, even 3 or 4 will be enough to narrow down your topic.
Let's say you want to write about obesity.
Who suffers from obesity? Kids and teenagers.
When did obesity become a problem for them? In the last 50 years.
Where is the youth obesity widely spread? Industrialized countries, like the USA.
Why is obesity the problem? Obesity among youth can cause chronic medical problems, including infertility.
After answering four questions, you can formulate a much more narrow topic:
The threat of mass infertility among the USA citizens caused by the spread of obesity in the last 50 years.
Where can you find appropriate references?
Unless you have to write a reflective or narrative essay, you will need to provide reliable support for your arguments. So before you make a final decision, go online and use Google Scholar, Academia.edu or ResearchGate to find credible scientific articles on the problem you wish to discuss. If you spot at least 5 to 10 promising sources, you can start your research and writing process. Otherwise, you should choose another topic, because you will have trouble finding trustworthy sources to quote.
If you are very excited about the topic, and you don't want to give up too soon, consult your instructor. He or she might be able to point you in the right direction in your search for credible references.
PRO TIP: If you find one credible article on the topic, look carefully at the reference list in the end. There you will find several sources you can use in your research.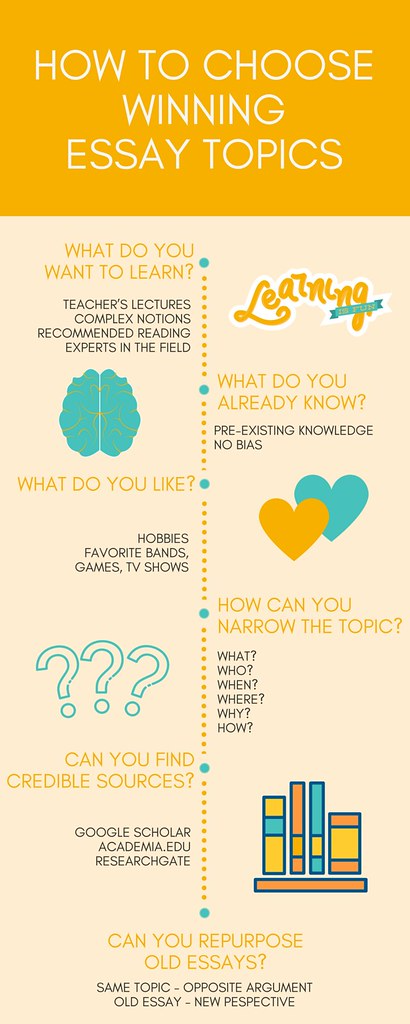 How can you repurpose your old essays?
This final trick is especially useful if you are short on time. Look through your old essays and think which of them could be appropriate for the new assignment. Naturally, you can't turn in your past work, as it can get you in trouble for academic dishonesty. However, there are no rules about "recycling" your own academic work.
Say, a year ago you wrote an essay about the positive impact of modern feminist movements on women's rights. For your new assignment, you can take the same topic and discuss it from an opposite viewpoint. Explore how the acts of disorderly behavior ruin the reputation of feminist activists and have a negative impact of women's work conditions. This way you can use your old sources and research, add some new facts and support different arguments.
By the way, you don't have to reuse your own research. You can take a peek at our massive essay database and look for inspiration there. Or just give our support team a call, and they will help you place an order so that you don't have to worry about choosing the winning essay topic on your own.