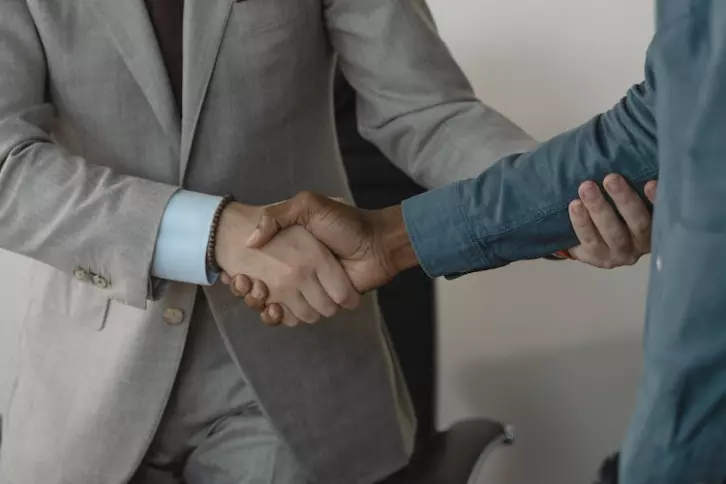 How do you get a job before graduation?
60% of working learners are in sales, food, or personal services.

Do you want to become another waiter, customer support, or sales manager?
Will you waste 20 to 40 hours wearing a scratchy uniform and getting minimum wage?
Or do you want to get a head-start in a job hunt and do what you love?
Forget about looking for jobs on and around campus or asking your parents' neighbors to set you up for a gig. Instead, we offer three new ways to go about finding a great job long before graduation. Are you ready to get detailed information and take advantage of the available options right away? Get essay help, free some of your precious time and immerse yourself in the search for perspective jobs. Fair warning: all three require outside-of-the-box thinking and elbow grease, but produce outstanding results. Don't take our word for it, try them, and share your achievements!
Develop your personal brand
If you receive zero response to your resume, it doesn't mean you lack experience or skills. It means you can't sell yourself to potential employers. That's where a personal brand would come in handy.
A personal brand is an impression of who you are, what you are capable of, and what makes you valuable.
Who are you? Do not present yourself as an inexperienced college student with little knowledge and skills to do the job. Instead, focus on your strong sides, such as the ability to motivate yourself, time-management, creativity, or anything else that suits the employer's expectations of an ideal candidate. If you don't know how to present yourself in the best possible way, getting essay writer help will be an optimal solution to cope with this challenge.
What are you capable of? Once again, shift the focus from your unfinished degree to your ability to multitask and juggle a job with classes. Consider the projects you've completed at school that support your strengths. Create a list of your skills, knowledge, and experience that proves you can perform the job.
What makes you valuable? At last, connect your past achievements to future job responsibilities and explain how your skills translate into benefits for the company. This ties your job application together and makes you seem competent even if you still have two years of college left.
Your personal brand is not a lie, but it sheds new light on your professional qualities and makes you stand out among the applicants. Once you develop a personal brand and infuse your resume, cover letter, and social media accounts with it, employers will come. However, you should be able to defend your brand during an interview. Otherwise, hiring managers will feel your uncertainty, and you won't get past the first round of interviews.
While you wait for a callback, try out another method, and apply what you already know to it.
Forget LinkedIn. Try handshake instead
LinkedIn is recruiters' favorite headhunting tool. However, it is designed for experienced professionals in the middle of their career path. You should start a profile and keep in relevant, but don't expect to get many offers.
Handshake is the right tool for you. It's an online platform that brings together over 14 million students and alumni from 700+ universities. IBM, Google, P&G, Target, NASA, M&T Bank are among 300,000+ employers that seek young talent through Handshake.
All you need to do to get offers is to create and fill in your profile. The platform will guide you through building a rich profile to attract the right employers. You can also set up notifications to get the latest positions and offers based on your interests and network. It is similar to LinkedIn but is specifically designed for students, so your chances of landing a job or an internship skyrocket.
There are other similar platforms online, like
WayUp
, but it is smaller with only 20,000 employers, but it might suit your needs better. Finally, don't forget about
Glassdoor
. It is the most powerful tool to research your dream company, learn more about the salaries, benefits, and even interview questions. Read about the disadvantages and pay attention to negative reviews before you agree to an offer.
Take Advantage of Your College Experience
Even though the overwhelming majority of college students have no idea how to balance work and college, the struggle is real. Moreover, goal-oriented, determined, and hard-working learners can use the skills they have gained at college to find a future job or to start an independent career. Although this option may not be suitable for those, who are used to getting the assistance of a speedy paper helper every single time they have to deal with a challenging assignment, it can be a top choice for those who are ready to face the challenge and deal with it.
Do you know how to create an influential, well-structured, and consistent paper worth the highest grade? Consider a career as a ghostwriter who gives learners a unique chance to
buy thesis
papers at reasonable costs. Choose your specifications and make sure you do what you like the most. Browse the web, and get detailed information about annotated bibliography writing service and similar platforms that can help you start an influential career, advance your skills, and earn a decent living.
Get a grant to start your own business
Ontario boasts a great small business grant program called Summer Company that awards $3,000 to anyone with a realistic business plan. However, it is not the only opportunity for you to get financing for your business idea. In fact, there are dozens of grants that award anywhere from $100 to $120,000 to startups and small businesses.
There are two categories of grants you can apply for: government and corporate. 
You can find more about available government grants and their eligibility requirements via Small Business Administration, BusinessUSA, State Business Incentives Database, and Challenge.gov. Some programs are available country-wide, while others are specific to a state, city, or even school.
Nonprofit organizations and large corporations host grant competitions to award money to up-and-coming businesses, and you can benefit from them. Most grant programs focus on specific categories, such as veteran or women-owned ventures, individual industries, nonprofit projects. These grants include Idea Cafe's $1,000 Small Business Grant, LendingTree Small Business Grant Contest, Dare to Dream Grant Program, Coca-Cola Foundation grant, and more.
Applying for a grant will take time and effort. However, you will get an opportunity to hold your dream job, and your income will depend solely on your knowledge, skills, and performance. Even if you do not wish to continue your business after college, think how good it will look on your resume, and how much valuable experience you will gain.
Whether you need help developing your personal brand, writing a resume or cover letter, or devising a business plan, SpeedyPaper is here to help. Even outside of the classroom, we can provide assistance and guidance because we want to see you succeed in all your endeavors. Whatever you need, reach out to our support team, and we'll get working on furthering your career prospects ASAP.